How ketamine-assisted psychotherapy (KAP) can help my practice:
Prevent clinician burnout and unstick your most stuck clients
Ketamine assisted therapy is an advanced treatment for depression, anxiety, and mental health conditions. Ketamine is widely used anesthetic in medical treatment and is most commonly known for its uses in surgery or for pain management. At high doses, ketamine puts you to sleep and completely disconnects your conscious awareness from physical sensations, without affecting the cardiovascular or respiratory systems. For this reason, ketamine is used in pediatric medicine and in emergency settings because of its extremely high safety profile. Ketamine is on the World Health Organization's list of "essential medicines."
The "Anti-Anti-Depressant"
In the 2000s we discovered that ketamine has the amazing property of rapidly switching off a depressed physiological state. This depression-reversing power of ketamine can be achieved at doses much lower than full anesthesia. Time Magazine called ketamine the "anti-anti-depressant," because unlike typical antidepressants like SSRIs or SNRIs (Zoloft, Paxil, Wellbutrin, Lexapro, etc.), ketamine works immediately and is often not needed chronically.
This workshop will cover:
Why it's personal: How KAP can help you help your most stuck and difficult-to-treat clients, and prevent clinician burnout (the hidden epidemic of the mental health crisis)

Ketamine 101: History, pharmacology, outcomes, and safety

How KAP enhances outcomes: Non-Ordinary States of Consciousness (NOSC), and why it matters to teach the IFS skill of Self-to-Part relationships in psychedelic integration

What is a typical KAP journey like?

Addiction and special populations: Why KAP is often worth managing the small but real addiction or chronic use outcome (and how FDA approval of MDMA, 2023, and psilocybin, 2024, will add more tools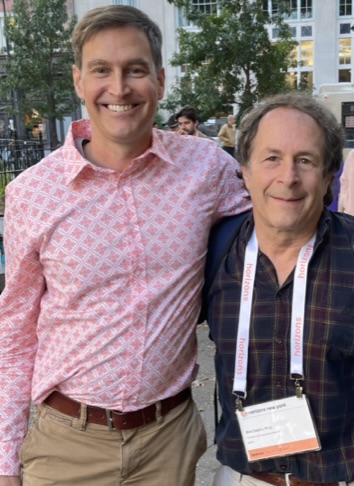 Keith Miller, LCSW-C
Certified Internal Family Systems Level III Therapist

I'm a social worker with 20 years of clinical experience as a psychotherapist in private practice. Since 2007, I've been the owner and Clinical Director of Keith Miller Counseling, a private practice that has provided mental health and couples counseling to thousands of people. In 2022, since a majority of our clients and staff preferred remote therapy, we closed our Dupont Circle location to focus on in-person care in Bethesda.

No one is immune from mental illness. Rates of major depression and anxiety soared during the pandemic. My own two-year struggle to resolve my own symptoms reached a turning point after several of my own clients told me they were using ketamine treatments to accelerate the course of their own treatment. They didn't have to tell me how it was working. I could see it plainly, like seeing night and day. Soon after, I consulted with my doctors and finished a successful course of ketamine treatment for myself. Since then, I've devoted myself to learning everything about the best practices for ketamine to treat depression, anxiety, PTSD, and chronic illness from stress. I'm also committed to learn how ketamine fits into the larger medical renaissance of psychedelic-based treatments, since MDMA is slated to become FDA-approved in 2023, followed by psilocybin in 2024.
Prior to my very personal crash course in psychedelic medicine for the mind, I had focused my career working with couples and individuals, specializing in a systematic, mindfulness-based model of therapy called Internal Family Systems Therapy (IFS). IFS is an evidence-based treatment for anxiety and stress-related health issues like PTSD. I'm advanced-trained and certified in IFS, and have taught other therapists how to use IFS for years.
The story of IFS and how it became one of the gold-standards for treatment of psychological trauma (Van der Kolk, 2014) is an interesting one. I encourage you to read No Bad Parts, by Richard Schwartz, or listen to my interview with him, which summarizes this unique, non-pathologizing approach to healing. But the story of how IFS is a roadmap for working meaningfully with non-ordinary states of consciousness (NOSC) like those experienced in ketamine journeys, is even more compelling.
I've been a national speaker and educator on the topic of mindfulness in psychotherapy and am the author of several books on personal growth and relationships, including many free webinars and courses, and Love Under Repair: How to Save Your Marriage and Survive Couples Therapy. I regularly teach my course for couples, Mindful Marriage, a mindfulness-based and IFS curriculum for relationship enhancement. In 2021, I started the psychology and spirituality podcast, The Soul of Life.
REGISTER TODAY
WHEN: This workshop is held twice monthly on Tuesday evenings, from 7-8pm EST
WHERE: You will get a zoom link after registering
COST: Free